Registered T.I.C.A. Ragdoll Breeder in Washington State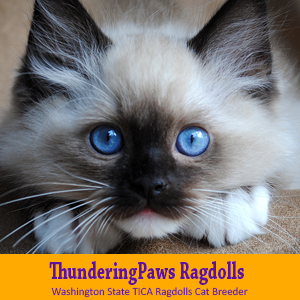 Hi.  Welcome to the website for the ThunderingPaws Ragdolls Cattery!
We are a small T.I.C.A. Registered Cattery located in Northwestern Washington, specializing in the breeding of pure-bred Ragdoll kittens.  We take pride in raising correct, healthy and well socialized pet Ragdolls.  From the time they are born until they leave us, the kittens are never caged and roam freely throughout our home.  They have their own "Catio" for food, water, scratching posts, climbing, and chasing each other around, yet they also love roaming our home like a small band of horses and the sound of them doing so gave rise to the name of our cattery: ThunderingPaws Ragdolls.